Become a sponsor of the Royal Parks Half Marathon
The Royal Parks Half Marathon was launched in 2008 as London's first half marathon event. Created by The Royal Parks charity to promote and conserve London's eight magnificent Royal Parks, the Royal Parks Half has enabled 1,200 charities of all sizes to take part in a major event and fundraise nearly £65 million for incredible causes. Awarded the title of the world's most stunning half marathon, the race takes 16,000 runners through four Royal Parks and past historic landmarks. 
Aligning with our event can give your company a fantastic platform to connect with our audience and gain widespread exposure while growing the event's reach and enhancing the experience for all participants.
Sponsor the Royal Parks Half
and you will be working with one of the leading mass-participation sports events. We will create sponsorship packages tailored to what's important to you, from a range of marketing, engaging and hospitality benefits. 
250 million total media reach
46,000 footfall in our event village
94% runners rated the event very good or excellent
90% of participants correctly identified event sponsors in 2023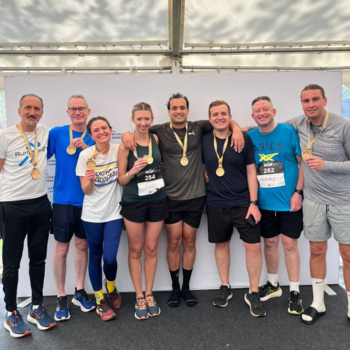 JW Marriott Grosvenor House - Official Hotel Partner
As official hotel partner for the Royal Parks Half since 2008, we are delighted to support year after year and continue our longstanding partnership. The Royal Parks Half is very close to our heart and to our guests. Each year the Grosvenor House team look forward to participating in the event while our guests enjoy all the excitement in neighbouring Hyde Park. The spirit of the Royal Parks Half is contagious and a fantastic opportunity for the wider London community to come together, reconnect and support a number of life changing charities.